FETE HOME AMBASSADOR / A Style Icon We've Chosen To Represent Our Dapper Collection
Eddie Ross, the Co-founder and Chief Content Creator of Maximalist Studios, has a resume to wow any aesthete. He's a former design, decorating and food editor for Better Homes & Gardens, Food Network, Martha Stewart Living and House Beautiful. His own design works has graced the pages of Domino, Vanity Fair, Country Living and the New York Times. He was also a contestant on the second season of Bravo's Top Design series. Have we mentioned that he's a trained chef from the Culinary Institute of America, and one of the nicest and most dapper men we know!
What we love most about Eddie is his ability to find diamonds in the rough. A self-professed flea market junkie (he loves the thrill of the hunt!), Eddie has educated himself about fine porcelain, china, crystal, and silverware, and scours vintage markets and thrifts stores across the country finding beautiful things for himself and his clients. See how wonderfully some of Eddie's vintage collection pairs with our Dapper Collection. And, see more from Eddie on his website and read on for his tabletop dos and don'ts.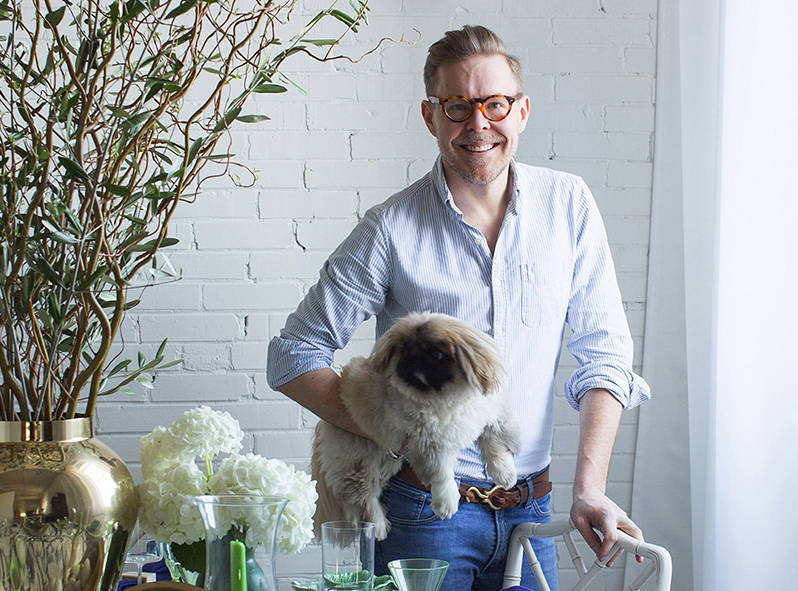 Fete Home: What's Your Inspiration for Today's Table?
Eddie Ross: The inspiration is really Spring. Springtime is around the corner! It is an organic, table setting with a green, blue, white and brown color scheme that is neutral and sophisticated, but happy without going too pastel-y. The tablecloth was a wonderful starting point. Its all-over, ethnic, almost Jacobean print reminded me very much of the garden and is why I chose to use the vintage Bordallo cabbage bowls and vintage Mottahedeh tureen and a mix of vintage and new glassware. I also wanted to look outside the box for décor – beautifully colored Araucana eggs are great for styling. And, the ginger jar! Sometimes they say a big arrangement blocks your view of guests but the ginger jar acts as a reflecting ball – which is fun – it really doesn't block your view.
Fete Home: What's always in your fridge? Are you always party-ready?
Eddie Ross: Champagne in the refrigerator and frozen pigs in a blanket in the freezer.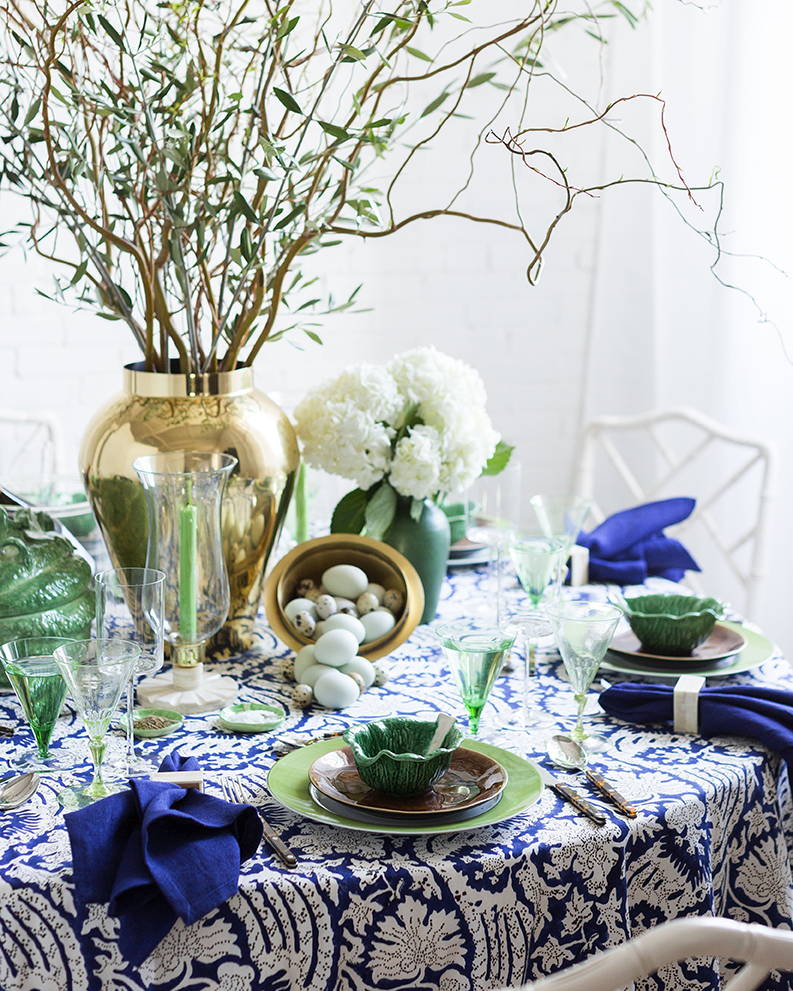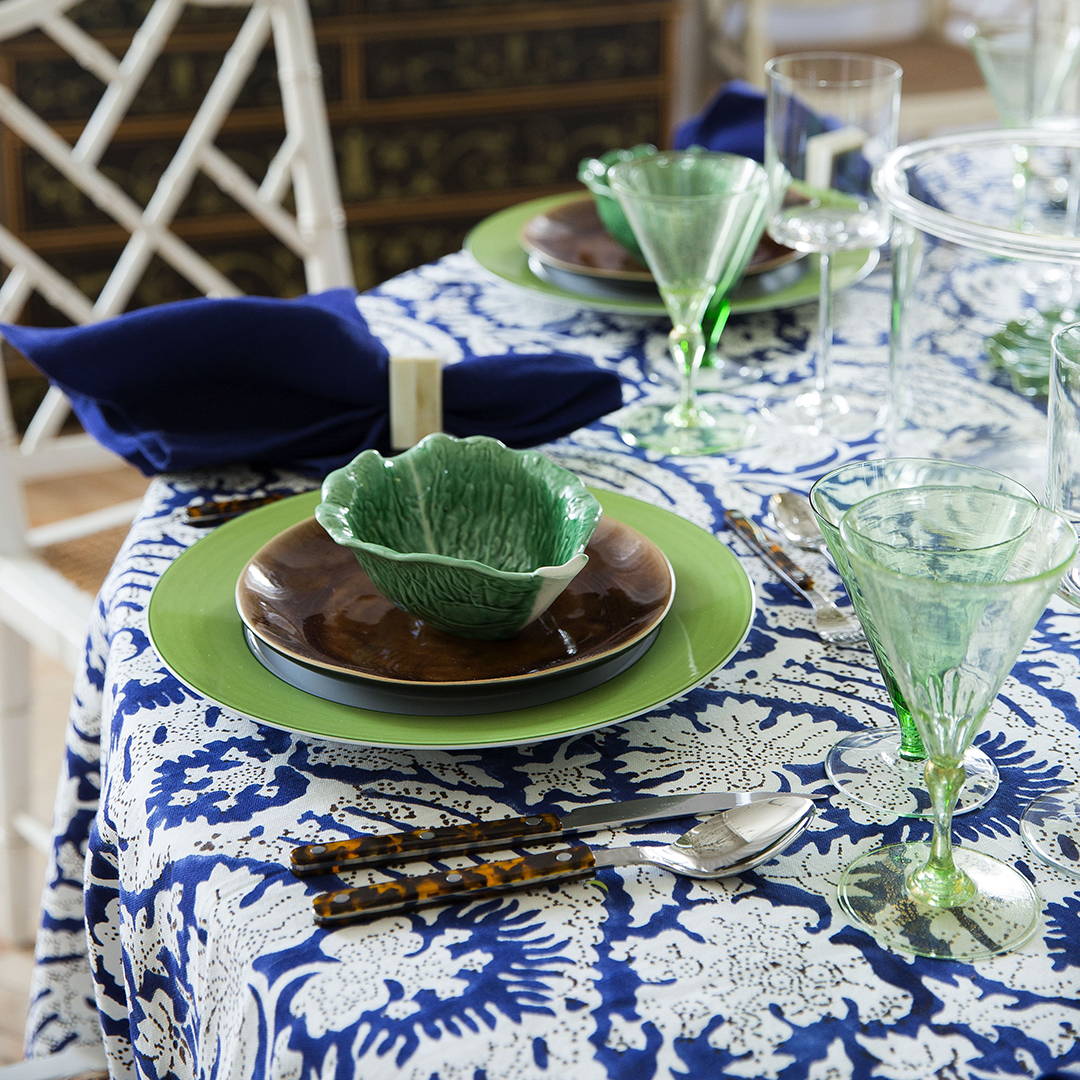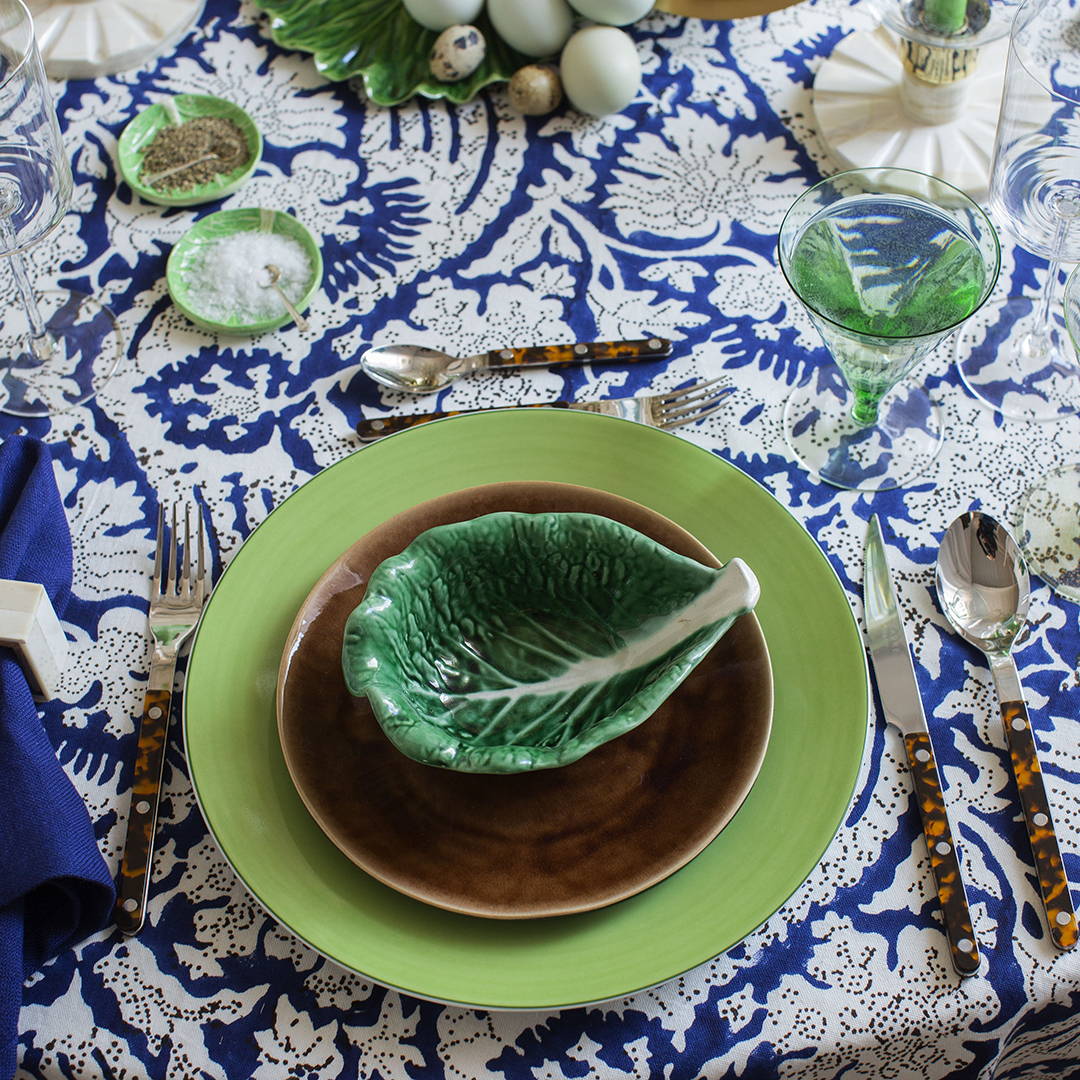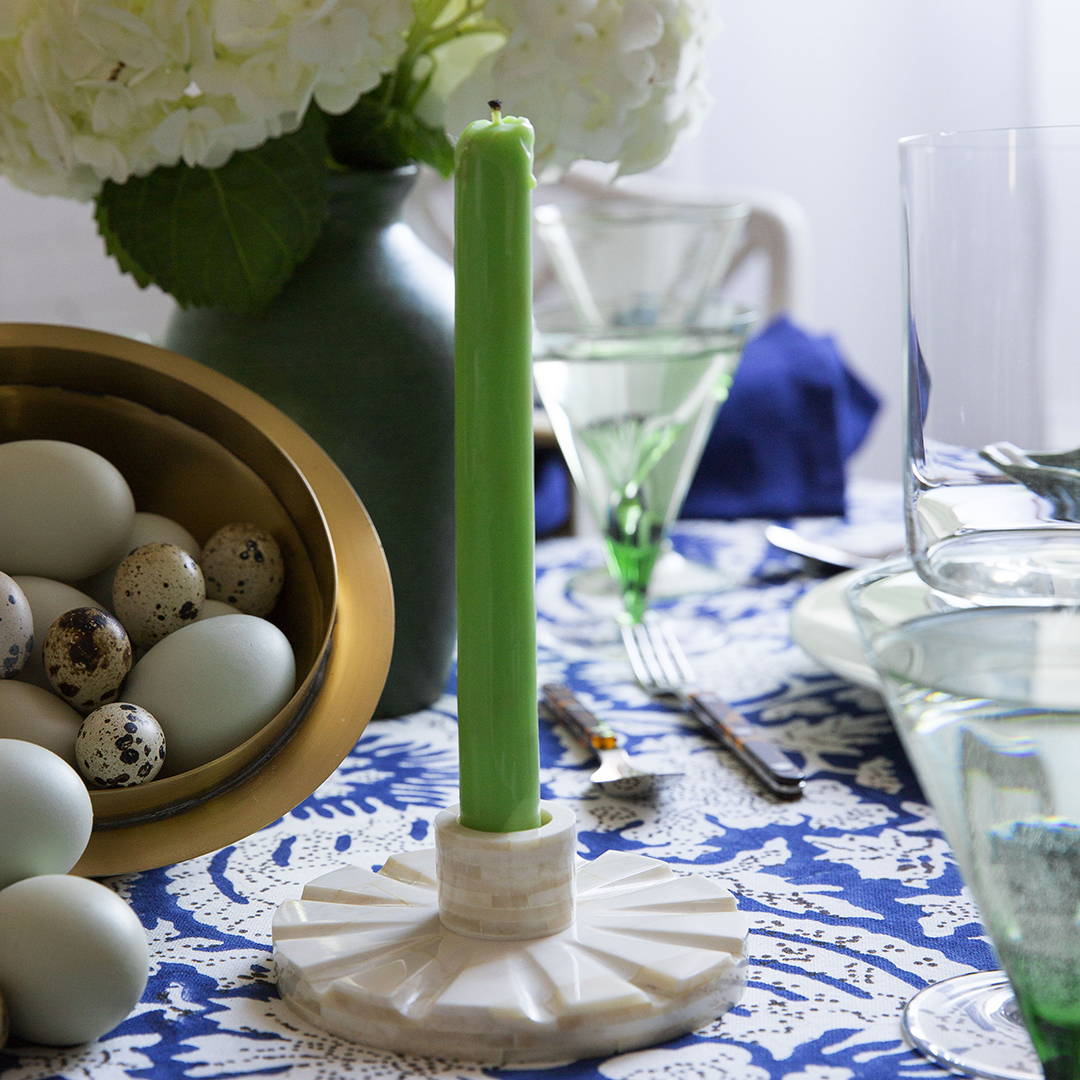 ---
Fete Home: What is your favorite item in this FH collection?
Eddie Ross: It's hard just to pick one! The tablecloth and linen napkins are really the only thing you need to buy to update things you already have in your butler's pantry or china cabinet. Oh, and the octagonal placemats. LOVE!
Fete Home: What are you most inspired by?
Eddie Ross: I'm most inspired by the past. I love being at flea markets and finding those one of a kind items that you can mix in with new products to really create a unique table setting.
Fete Home: What's something we'd never find at one of your parties?
Eddie Ross: Paper plates, paper napkins and plastic silverware.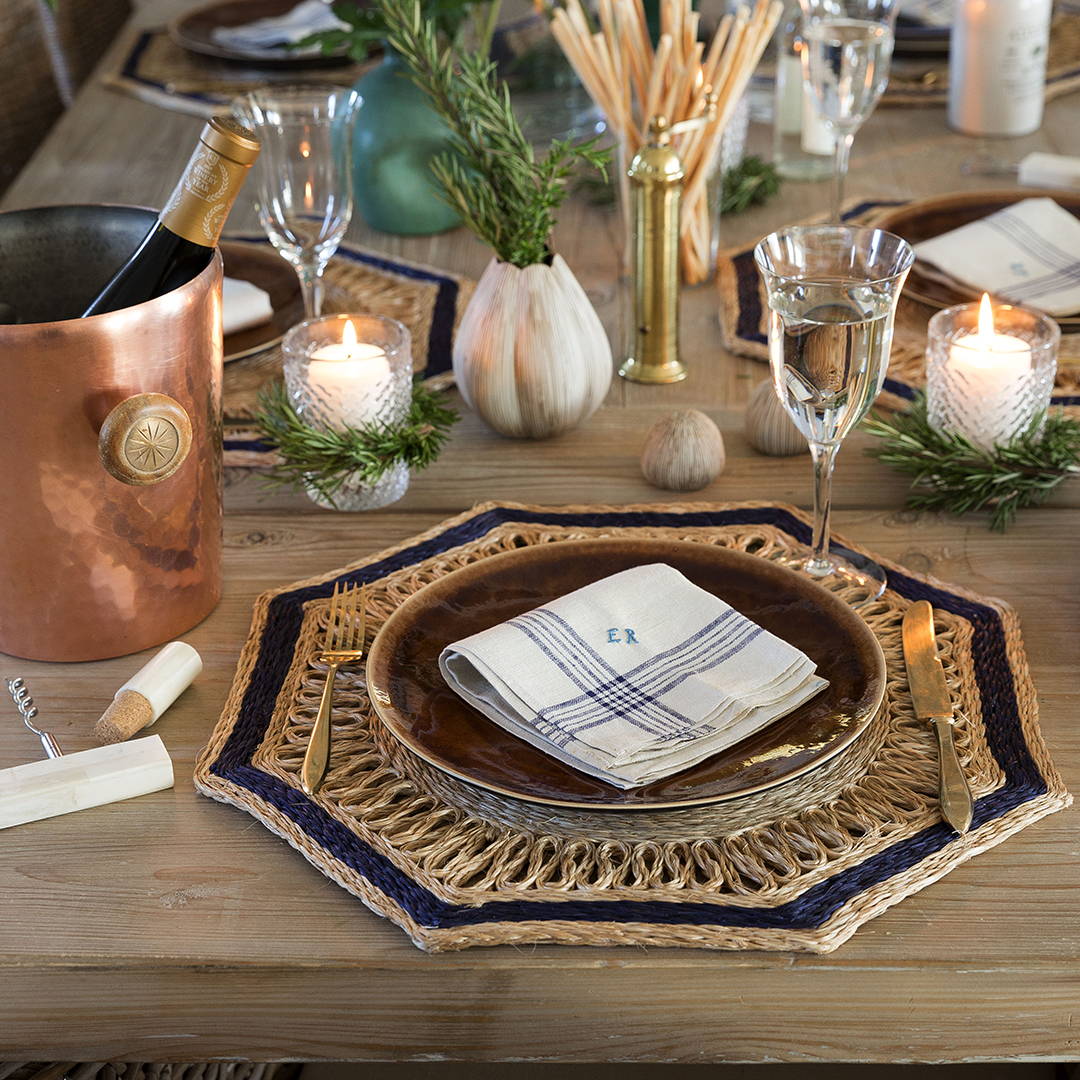 ---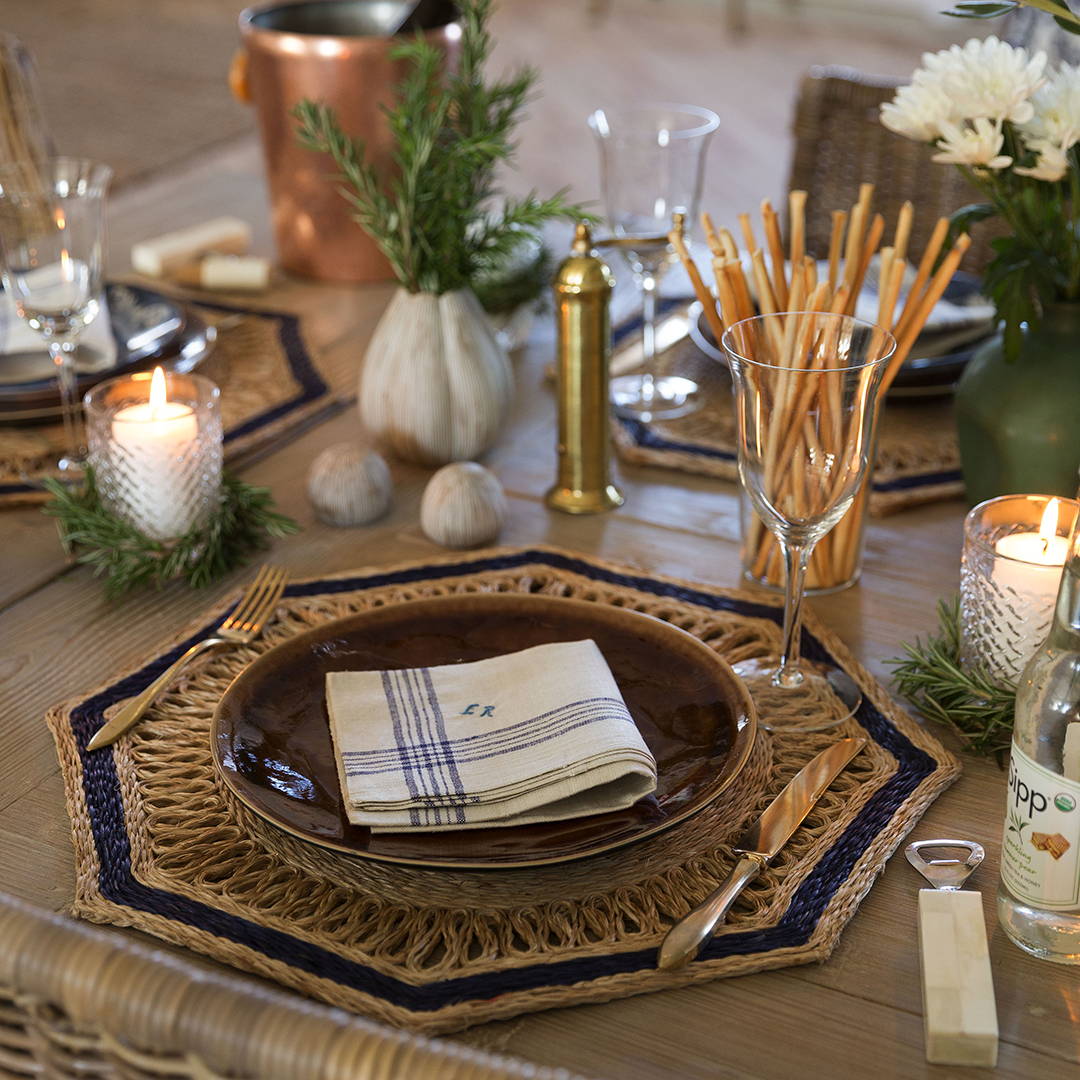 Fete Home: What are your tips for creating a stylish table setting?
Eddie Ross: My rule of thumb is either a placemat or a tablecloth and that's why I chose to arrange two tables. You can always cover up an inexpensive party table with a round tablecloth. Placemats are better when you have a beautiful table that you want to highlight as well. It's about the mix – layers, textures, color palette. My approach is maximalism but with an edited eye. You always need to create resting points for your eye with all that's happening on a table.
---