Host a Fabulous Fete - Without Turning on the Oven
The feeling you get when you gather your favorite people together. That, and the food, fun and festivity!
So how do you make entertaining not only look effortless, but feel effortless, too? Having friends over should be a joy, and sweating it out over a hot stove and oven isn't what we'd call joyful. Good news: you can put together a chic, successful soirée without going anywhere near the heat.
The Plan: Set the scene
Once you've decided on the date and guest list, the fun begins. This is when you get to choose the flowers, make the playlist…and then there's the menu. But we'll get into that later.
First things first: pick the pieces. There's no rule that says you have to be matchy-matchy; in fact, we think mixing textures keeps things simple but visually interesting. Architectural shapes, mercurial metals and warm woods create an effortlessly elegant look. Beautiful objects you truly adore will spark conversation and set the scene.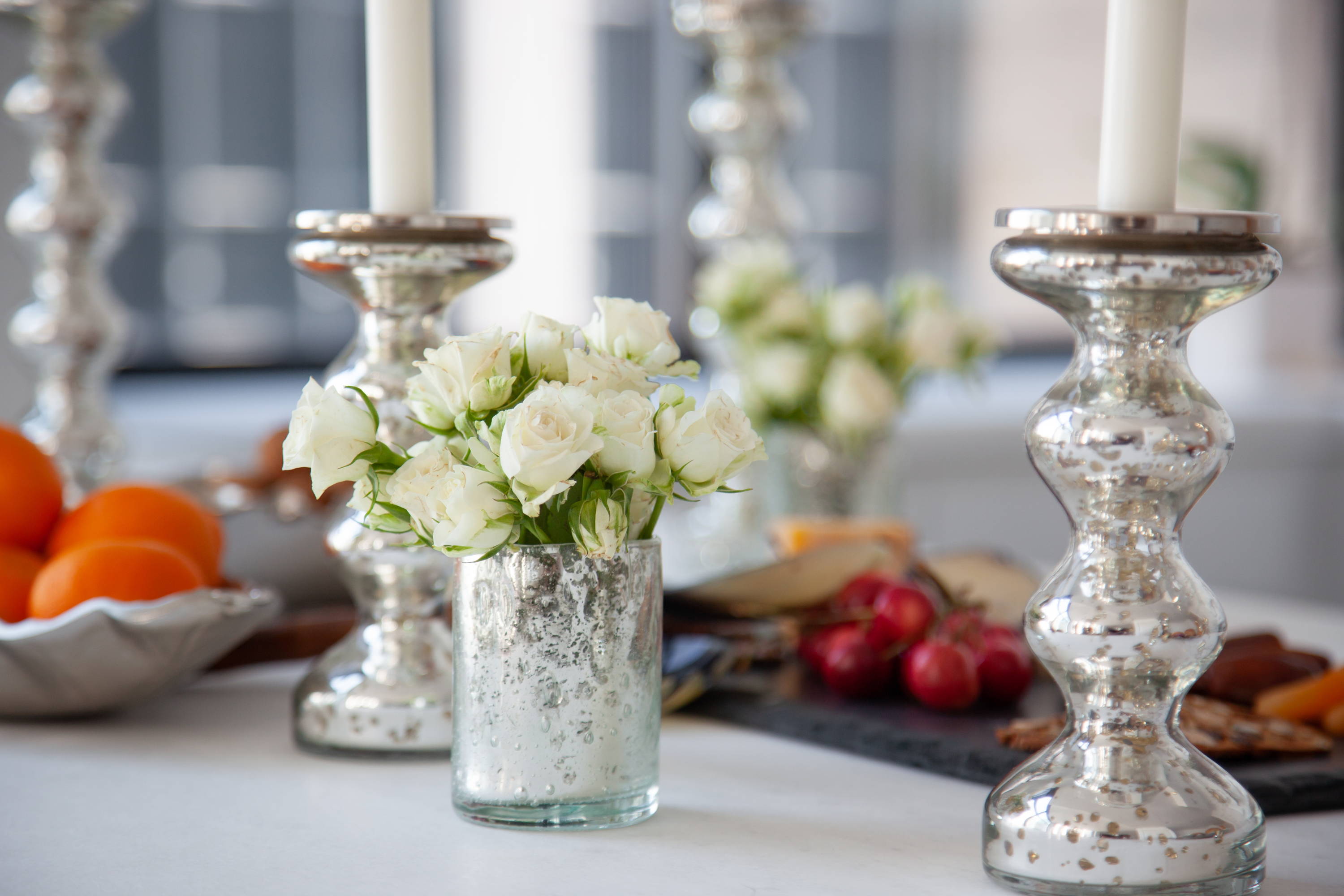 The Big Gun: Create a killer cheese board
When it comes to menu planning, we say "why complicate things?" when you can let a killer cheese board be the true pièce de resistance. Add some fresh fruit and savory snacks, and voilà! the menu is done (and done!) The best part? This delicious repast plays double-duty as décor.
Now, for us, this is in equal parts about the cheese itself and about the serving board. Composing the perfect cheese board has never been easier—there are tons of resources, but we go back to this one over and over again. And can we just say? Our favorite pre-party task is to head to the cheese shop (we love the Bedford Cheese Shop in Grammercy) and pick the perfect combo of hard and soft, fresh and stinky, decadent and simply delicious. (Yes, this involves tasting. LOTS of tasting.)
We say get as creative as you like with your cheese board, but if you need a little primer this guide from realsimple.com is a great resource for what and how much, as well as little tidbits that really come in handy. (Our top tip: take cheese out of the refrigerator one hour before serving to optimize flavor. Who knew?)
And we love a clever multi-tasker. In this case, it's fruit. Sweet nectarines and pears for dessert double as a statement-making centerpiece. Bright pops of orange against a silver plate or tray give your table a refreshing look—a modern twist on the traditional.
The Details: Flowers and lighting
Of course, the flowers. Once again, keep it simple. Bunches of white tea roses are the perfect accent, and let your serving pieces and food take center stage. Use a vessel that is on the smaller side and coordinates with the other accent objects you're going to display.
Finally, you want to create an inviting lighting concept—something that is soft and soothing (and yes, the fact that candlelight is incredibly flattering doesn't hurt!). We place classic white tapers in gorgeous silver candleholders in staggered heights, which adds depth and dimension.
The Key: Go natural, not staged
And this is critical: the more "real" the vibe, the better. So serve food you like to eat, play music you always listen to and use objects that bring you happiness and inspire celebration.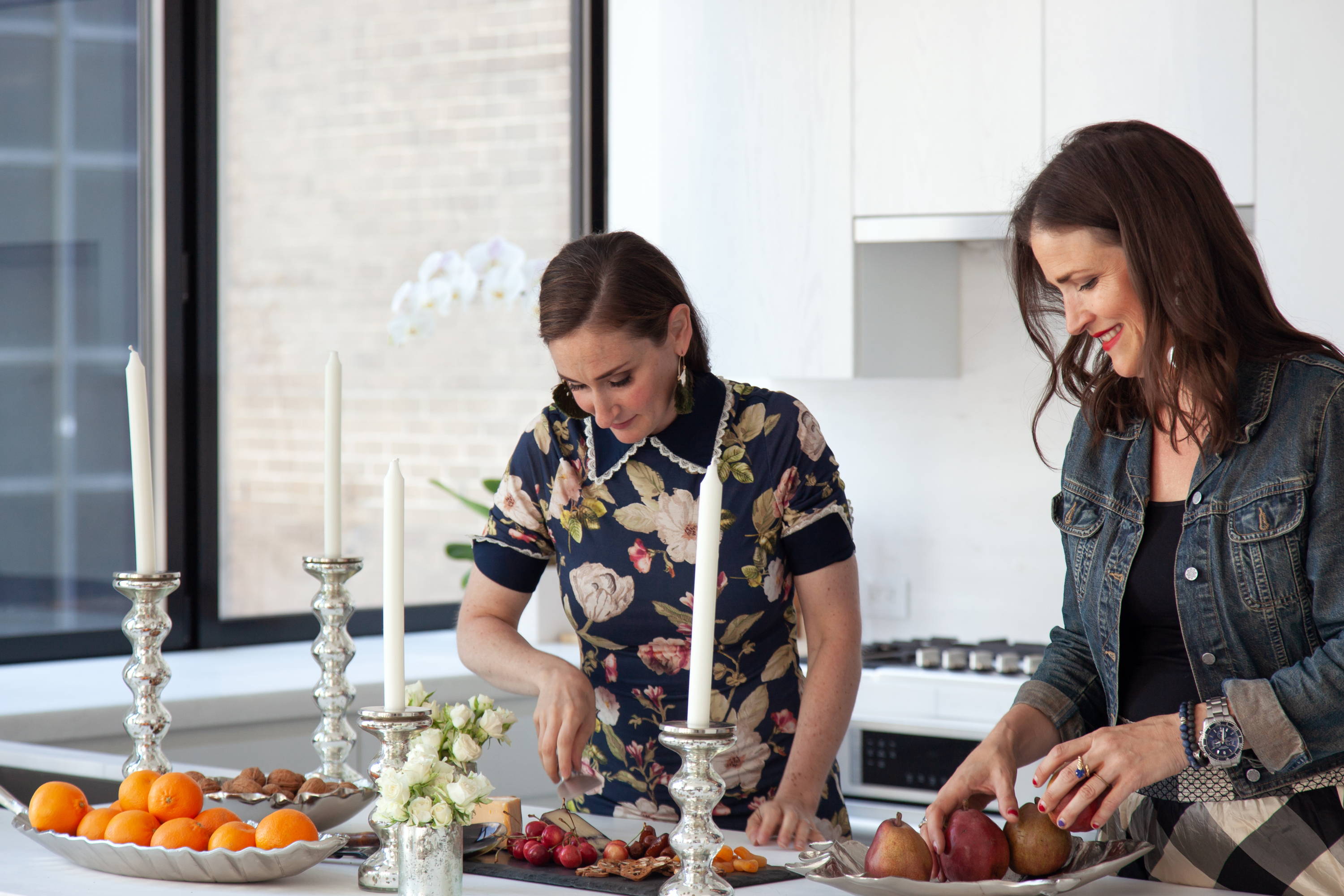 The Secret: YOU
Remember, you set the tone. It's all about relaxed energy. A great hostess is one who makes introductions, mingles and actually enjoys the party herself. Which means not spending the entire night preparing complicated dishes that come out one at a time. So make the food easy and fun. Set the scene with pieces that are a reflection of you and your inimitable personal style. Most of all, be creative and throw a party you'd want to attend.
Shop This Look
---