Have you ever been scrolling through Instagram and been completely stopped in your tracks by an image? That was us with Kate Scialabba's feed. (Yes, we met on Instagram!) Kate's art is so organic, whimsical and joyful. And her mainly blue and white palette is perfectly timeless. We knew right away that we needed to add Kate to our group of curated artists and offer a limited collection of Kate's works to the Fete Home audience.
Kate grew up on Long Island with a brush in her hand. After graduating from the University of Virginia and pursuing a career in interior design, Kate rediscovered her love for fine arts and painting and has been creating original artwork ever since. Her background in design allows her to consider not only the painting, but how it will enhance the surrounding space. Most days you can find her, dressed in blue and white, painting in her New York apartment. She composes each piece by deconstructing and reconstructing images from her travels, growing up on the coast, and life in the city.
All of Kate's works on our site are originals and they come pre-framed in a gold bamboo frame.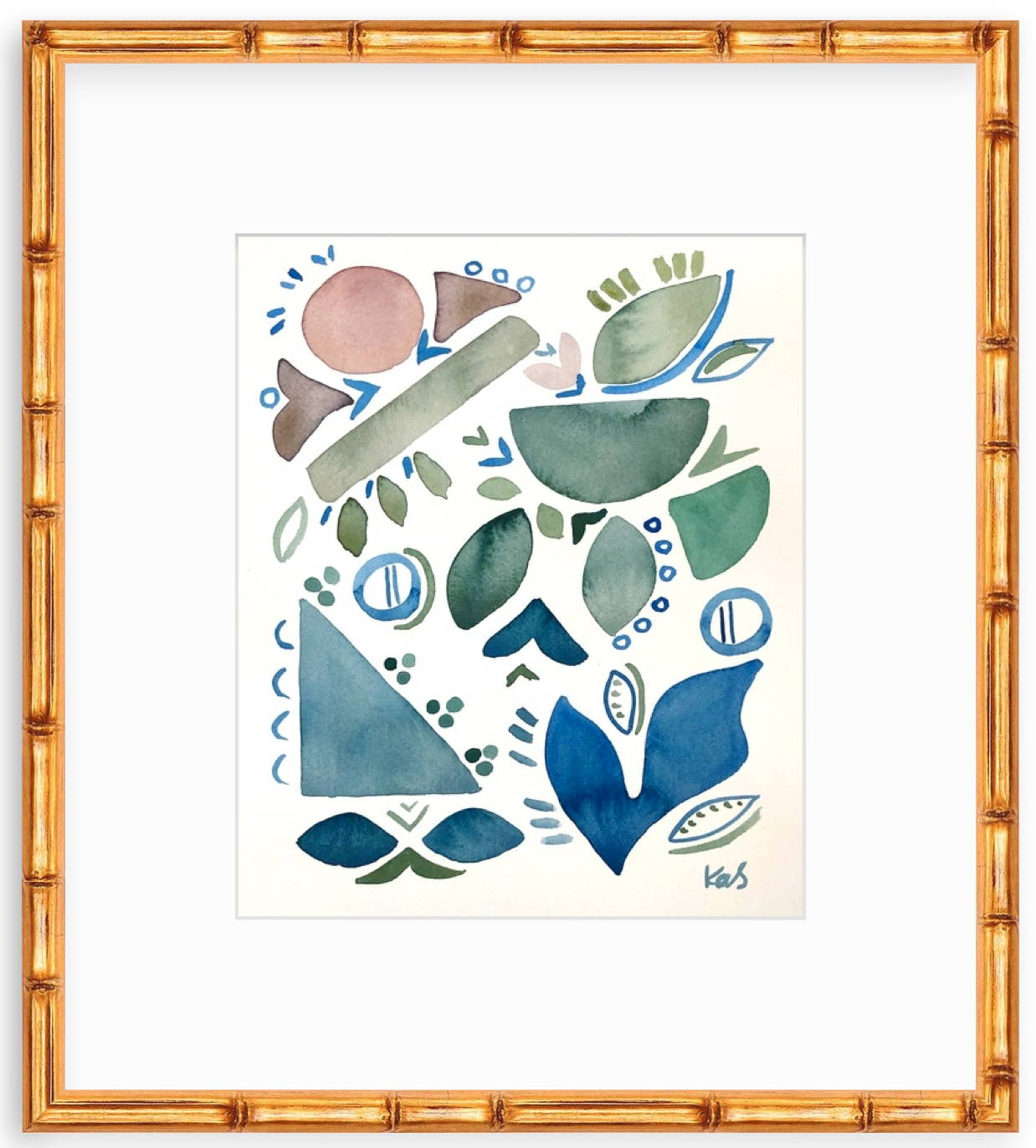 Fete Home: What do you love about what you do for a living?
Kate Scialabba: I love the act of creating. It is truly an incredible experience when something you have been dreaming up comes to life. It is an even cooler experience when my art resonates with people. It feels like we understand each other in some way.
Fete Home: What are you most inspired by?
Kate Scialabba: I am inspired by both nature and interiors. I worked in interior design prior to starting my own business, and I still have such admiration for well-designed spaces. I love how the use of organic elements and floral patterns can bring the outside into a room. I use both natural elements inspired by landscapes and florals, and combine them with more geometric elements and patterns inspired by textiles and furnishings.
Fete Home: What are some of the ways you love to incorporate small scale art into a home?
Kate Scialabba: I love how small scale art can spice up a bookcase or console table. If you have a deep enough frame, the piece will stand on its own. If not, you can rest it against the back of a bookcase or use a mini brass or acrylic easel to prop it up!
Fete Home: We think of art as items that spark conversation. What's the conversation you hope to achieve with your work?
Kate Scialabba: My hope is that the viewer picks up on shapes and patterns that are familiar to them, but also questions what exactly they are looking at. I hope the viewer takes these familiar elements and creates their own story from them. I want my art to take the viewer to a place that is comforting but also dream-like.
Fete Home: What's your go-to hostess gift?
Kate Scialabba: I think a fun, textile- inspired tablecloth is a great hostess gift. It is something people don't typically buy for themselves and a perfect way to dress up a table for future dinner parties. For something a little more grand, you can't go wrong with a cashmere throw or some fun glassware like the Confetti Tumblers from Fete Home.
---