Valerie Leuchs Art Pop-Up


"Home is where the heART is." We're not sure who came up with this wordplay, but we couldn't agree more. Nothing adds color and personality to your home quite as powerfully as art. When we first saw Valerie Leuchs' paintings, we fell in love with their cheerful and bold color, and knew the impact they'd have in any home.
Valerie Leuchs has been creating art since childhood: sewing clothes with her mom, designing dresses, and painting just about everything. Valerie graduated from Boston College with a degree in Fine Arts, and studied at the Maryland Institute College of Art in Baltimore and San Miguel de Allende, Mex. In 2002, she moved to New York City. For fifteen years, she enjoyed a successful career as a business development and sales executive across fashion, finance and marketing. After the birth of her second son, she rededicated herself to her art full-time, and has found renewed joy in creating through painting.
She uses acrylics and often integrates pencil and pastels onto the canvas. Her most recent work is abstract with bright colors and bold shapes. Valerie paints by adding many layers of sheer pigment onto the canvas; she likes when the first layer or raw canvas peeks through in the finished piece. Her work is cheerful but calming and balanced. Valerie draws inspiration from the things she sees over the day, like a bouquet of flowers, a print from a dress, or a pocket of colors from a page in Vogue or Harper's Bazaar.
We are honored to represent this limited edition collection of Valerie Leuchs' work. All works are acrylic on canvas and come framed in maple wood. They are only available through Fete Home and only through the month of October!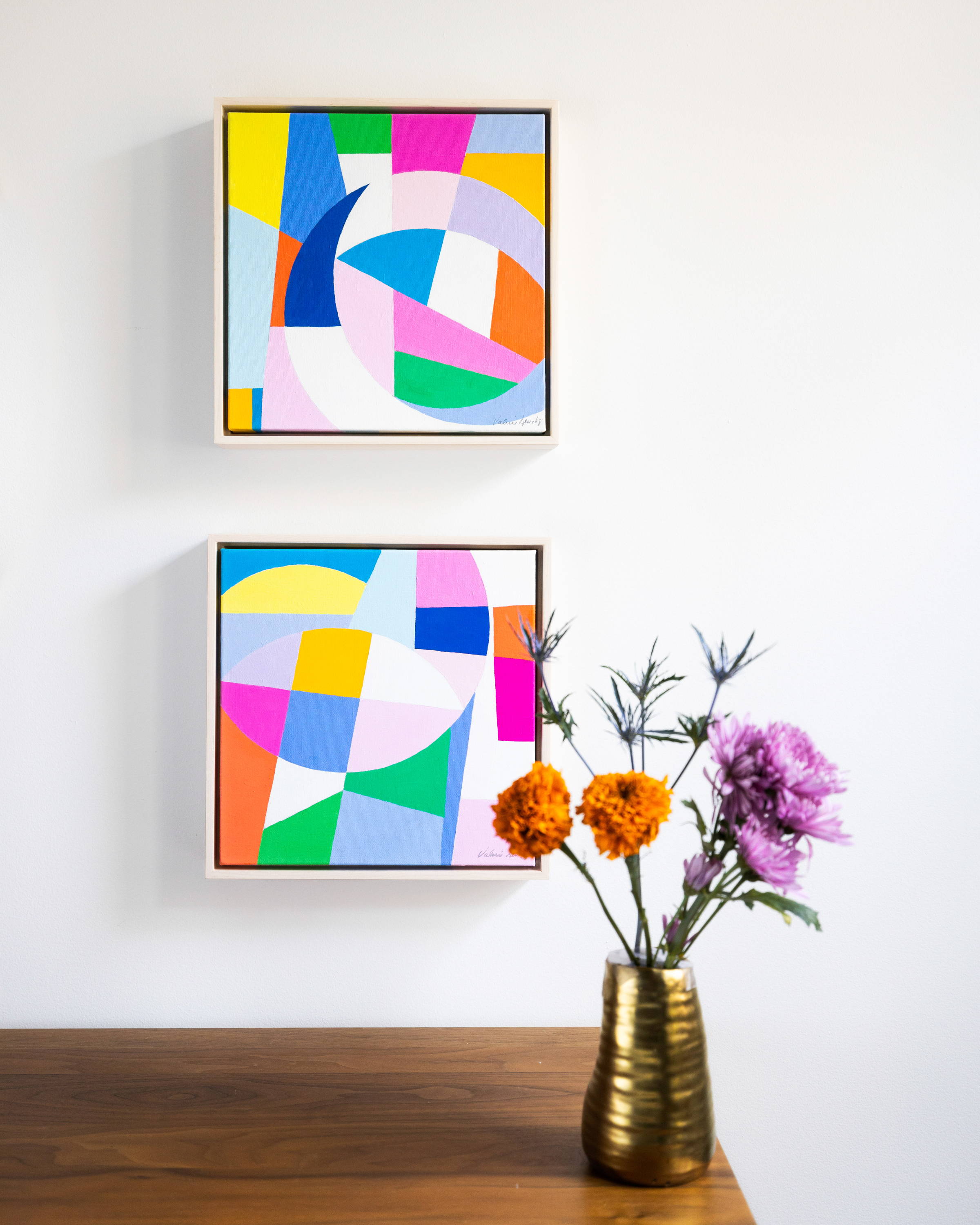 Fete Home: What do you love about what you do for a living?
Valerie Leuchs: I love so much about my job! I am thrilled that after searching for 15+ years to find a job that I am passionate about, that I found it. I enjoy getting to do something that brings me joy as well as bring joy to others. I love getting to connect with other entrepreneurs, clients and creatives. Finally, I am so happy that I have a career that lets me work when my kids are in school but also allows me to be available to pick them up from school, take them to activities, and allows for flexibility when needed.
Fete Home: What are you most inspired by?
Valerie Leuchs: I am inspired by nature especially the ocean, the energy and grit I see on a daily basis in Manhattan, interiors and fashion.
Fete Home: What are some of the ways you love to incorporate small scale art into a home?
Valerie Leuchs: I love creating gallery walls, pairing two similar paintings in a corner or on a long slim wall. I think small scale art looks beautiful styled on shelves with books, framed photos and small vases.
Fete Home: We think of art as items that spark conversation. What's the conversation you hope to achieve with your work?
Valerie Leuchs: My paintings tend to be colorful, bright and cheerful. I have been told by my clients that when they have guests over they talk about the beauty and joy that my art brings to the space and their lives.
Fete Home: What's your go-to hostess gift?
Valerie Leuchs: I think that since I have lived in New York City for nearly 20 years, I tend to bring gifts that can be enjoyed right away or that take up little space. I love to bring cookies from LeVain Bakery, a chocolate Babka from Bread's Bakery, flowers, or a bottle of Sancerre.
---